Top 10 Interesting Things About Cricket Shop
Posted by HASHIM ALI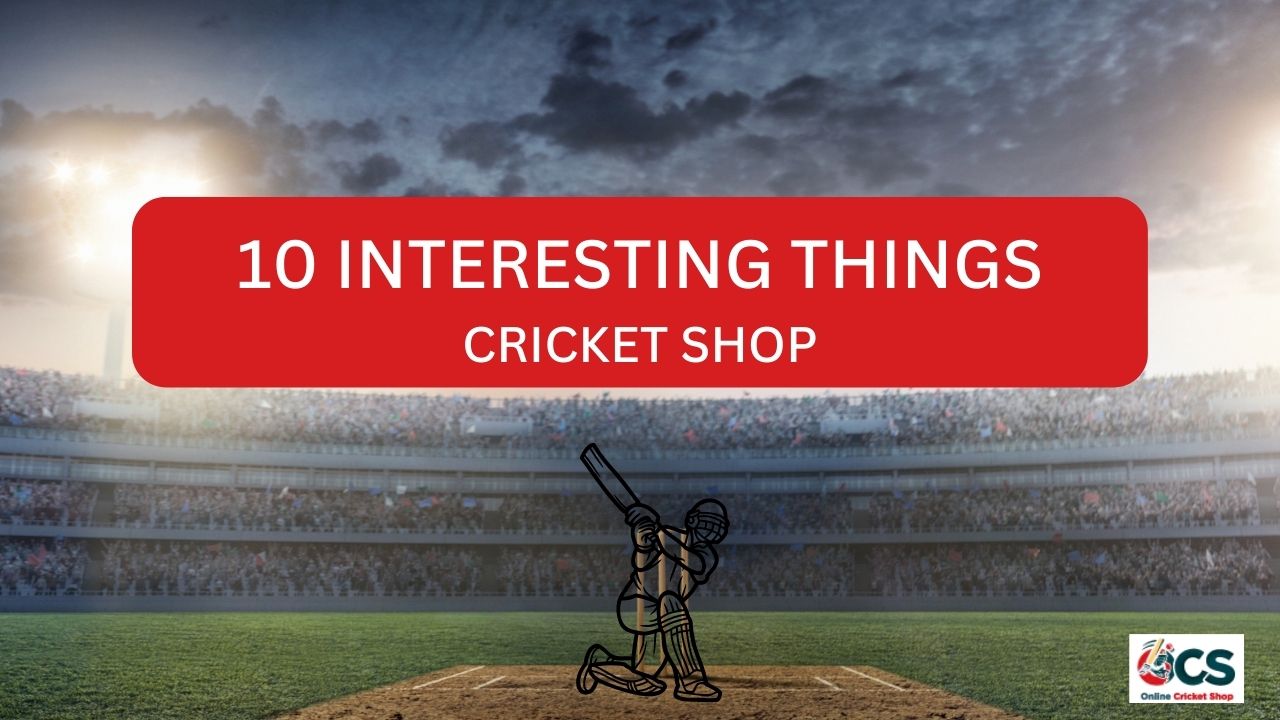 A cricket shop is a bustling activity center for players and spectators.
This article will discuss the ten most fascinating aspects of cricket stores.
A Comprehensive Selection of Cricket Gear
Cricket fans may only need to make one stop at a cricket shop that stocks a comprehensive selection of gear for the sport. Cricket equipment, from bats and balls to gloves and helmets, is all available in one place for the convenience of customers.
Having a wide range of gear is one way to accommodate players with different skills and tastes. Also, cricket stores can set themselves apart by stocking gear from multiple manufacturers. This has the potential to improve the shopping experience for customers and encourage repeat business.
Expert Opinion on Your Specific Problem
Those working in cricket specialty stores are well-versed in the game and can recommend the best gear for your needs. Cricket fans interested in honing their skills or upgrading their gear would benefit greatly from hearing experts' opinions.
Cricket stores may set themselves apart from rivals and earn consumers' trust by employing specialists to guide purchasing decisions.
Cricket Equipment Made to Order
Cricket stores may assist clients in finding the correct gear by providing individualized services like fittings and customizations. Many cricket stores let you personalize your gear by providing engraving or embroidery services. Cricket bats, gloves, and apparel can be customized with a player's name embroidery or a team logo.
Exclusive Collectibles & Original Memorabilia
A great approach for cricket stores to set themselves apart from rivals and attract clients looking for uncommon and unusual stuff is to offer real memorabilia and limited-edition products.
Cricket balls, jerseys, bats signed by notable players, and only available limited-edition gear can fall into this category. Cricket stores may win over collectors and fans by stocking limited editions of popular items, which they should buy quickly before they sell out.
Tools for Coaching and Working Out
For coaches and players looking to hone their craft, cricket specialty stores provide training gear like cricket balls, pitch markings, and cones.
Cricket stores are great places for fans to find rare collectibles like signed bats, jerseys, and balls. Gifts for cricket fans could not be better than these.
Affordable Costs
Price competitiveness is a key distinction for cricket retailers in the fiercely competitive cricket equipment market. Cricket stores can provide competitive pricing without sacrificing client quality or service by negotiating with suppliers and running sales.
Overall, cricket shops can get an advantage over the competition if they offer reasonable prices and attract price-conscious clients.
Discounted Products
Businesses can raise their revenue and attract new clients with promotional deals. During popular cricket seasons, stores that provide discounts and specials can see a large increase in business. Discounts on cricket equipment, apparel, and accessories could entice customers who are cricket aficionados.
Retailers selling cricket gear can also consider offering discounted bundles or packages containing several cricket products. Cricket stores can benefit financially, get new consumers, and increase their profile by holding promotional specials. You must be cautious around them.
Brands to Choose From
Gray-Nicolls, Kookaburra, and Gunn & CA are just a few of the well-known brands that can be found in cricket stores. You can shop around and locate equipment from various manufacturers to get the best fit for your needs and budget.
Activities and Advertising
Cricket stores frequently hold contests and events where customers can meet cricket celebrities and potentially win rare merchandise. Participating in these gatherings is a fantastic opportunity to meet other sports enthusiasts and pros.
Fostering Social Unity
Cricket stores are gathering places where players and fans can bond over their shared passion for the game. You can connect with other cricket enthusiasts, whether players, coaches, or spectators, and form strong bonds with them.
Cricket stores provide training gear, including cricket balls, pitch markers, and cones to aid coaches and players in honing their craft. Cricket stores may foster a strong community of cricket fans by hosting events and activities, utilizing social media, and delivering individualized service.
Conclusion
As this article has shown, cricket stores sell far more than simply equipment. They serve as a hub for the gaming community by holding events and discussions, selling merchandise, and letting professionals help. You should check out what a cricket shop offers to acquire cricket equipment.
Collection 2019
Sale 70% Off
Title for image