Pros and Cons of Shopping from a Online Cricket Store
Posted by HASHIM ALI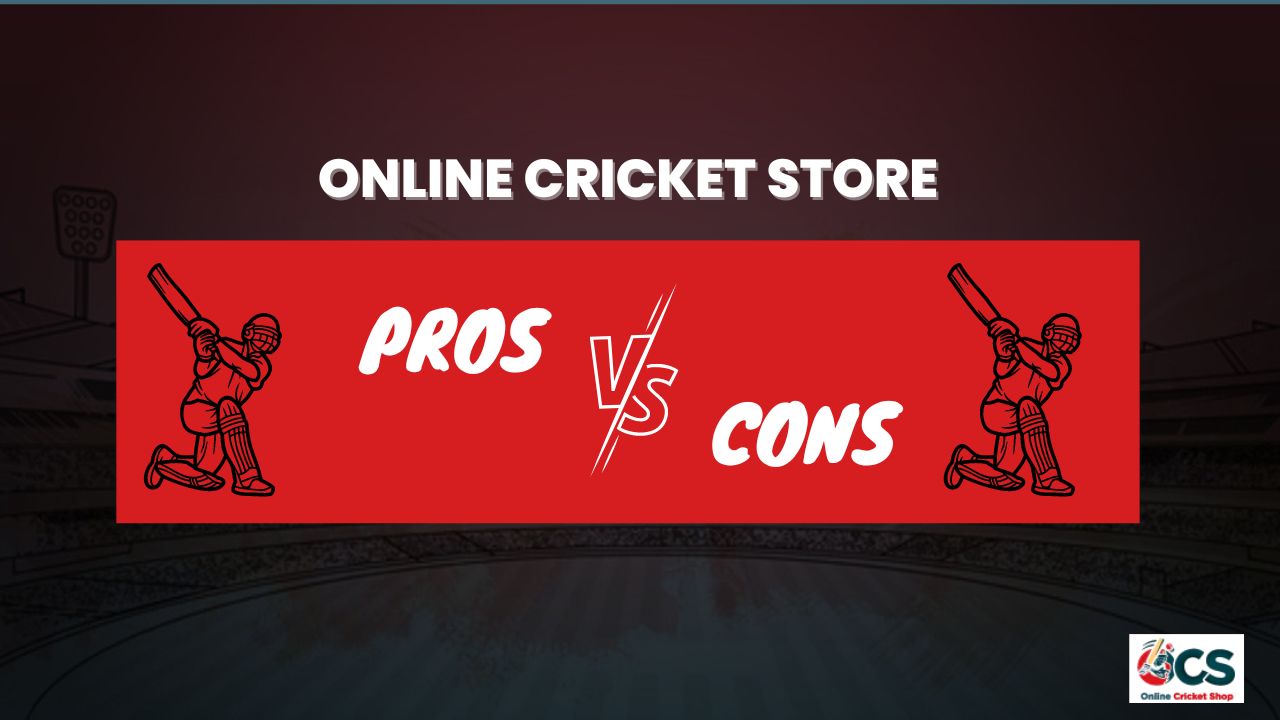 Online shopping has become very popular quickly because it is easy and easy. The sports market has not lagged, with numerous new online stores appearing, some of which specialize in cricket. The benefits and drawbacks of buying cricket equipment online are listed below.
Pros:
Convenience is a major plus when it comes to buying cricket equipment online. When you shop for cricket equipment online, you don't have to leave the house or the office, saving you time and money.

Internet retailers

typically stock a broader selection of goods than their brick-and-mortar counterparts. There is no issue of restricted storage or rack space for online retailers. At an online cricket store, you may find additional cricket-related items, such as bats, balls, protective gear, apparel, and accessories.

Because there is so much competition in the online retail business, Cricket stores usually have prices that are comparable to each other. As a customer, this is good news since it means you can save money while still getting high-quality cricket equipment.

Access to Customer Reviews

:

Most online stores make it easy to find reviews written by people who have bought a product before. Other buyers' reviews might help you decide which cricket equipment will best suit your needs.
Cons:
Inability to Try On or Test the Products: One of the biggest downsides of shopping at an online cricket store is the inability to try or test the products before purchasing them. This can be especially challenging regarding protective gear, which needs to fit correctly to provide adequate protection.

Shipping and Delivery Times: Another potential downside is the time it takes for your purchases to be shipped and delivered. This can be especially frustrating if you need your cricket gear urgently.

Quality Concerns: When shopping online, there's always the risk of receiving low-quality products. Ensuring that the online cricket store you choose has a good reputation for selling quality products and offers a good return policy is essential.

Lack of Personal Interaction: When shopping at a physical store, you can interact with the sales staff, who can offer advice and recommendations. With online shopping, you may not have that personal interaction, and you're left to make decisions based on product descriptions and reviews.
Exploring the Different Types of Products Available at a Online Cricket Store
Millions of people all over the world love the sport of cricket. If you like cricket or play it, you want the right gear and clothes to help you play better. You can find everything you need at an online cricket store, which is good news.
Cricket Bats
A cricket bat is a piece of equipment that every player needs. You can find bats made from English willow, Kashmir willow, and other materials at an online cricket store. You can choose a bat based on how you play, how good you are, and how much money you have.
Balls for cricket
The most important part of a cricket game is the cricket ball. At an online cricket store, you can find balls made of leather or man-made materials. You can also choose from balls of different sizes and weights, depending on what you like.
Clothing for cricket
The clothes that cricket players wear are made to be comfortable and easy to move in. You can buy clothes like shirts, pants, shorts, and socks in an online cricket store. You can pick from various styles and patterns to match your team's uniform or tastes.
Cricket Shoes 
Shoes for cricket are made to keep players stable and give them support while they play. At an online cricket store, you can find shoes made of leather, synthetic materials, and rubber, among other things. You can pick from different styles and designs based on how you like to play and how much money you have.
Accessories
Accessories for cricket include everything from protective gear and bags to helmets and gloves. You can find a wide range of accessories at an online cricket store to meet your needs, and you can choose from different brands and styles to suit your tastes.
Why Cricket online stores are important
Cricket fans worldwide go to online stores that sell cricket gear. These stores sell cricket gear, like bats, balls, gloves, pads, helmets, and jerseys. The importance of these stores lies in how easy, cheap, and easy to get to they are. They make it easy for cricket fans to buy high-quality gear from the comfort of their own homes and at reasonable prices.
Types of Cricket online stores
There are two types of Cricket online stores: those specializing in cricket equipment and those specializing in cricket merchandise. Equipment stores offer a wide range of cricket gear, from beginner-level to professional-grade. On the other hand, merchandising stores sell cricket-related merchandise such as jerseys, hats, keychains, and other souvenirs.
Choosing the right online cricket store
When choosing the right Cricket online store, there are a few things to consider:
It's important to look for stores that offer a wide range of cricket equipment and merchandise.

Choosing a store that offers high-quality products from reputable brands is crucial.

It's important to consider the store's reputation, customer service, and shipping policies.
Conclusion
Cricket online stores have revolutionized the way we purchase cricket equipment and merchandise. With their convenience, affordability, and accessibility, they have become a popular choice for cricket enthusiasts worldwide. By choosing the right store and taking advantage of its benefits, you can take your cricket experience to the next level.
Collection 2019
Sale 70% Off
Title for image