Why We Need to Buy Cricket Bats From Online Cricket Shop
Posted by HASHIM ALI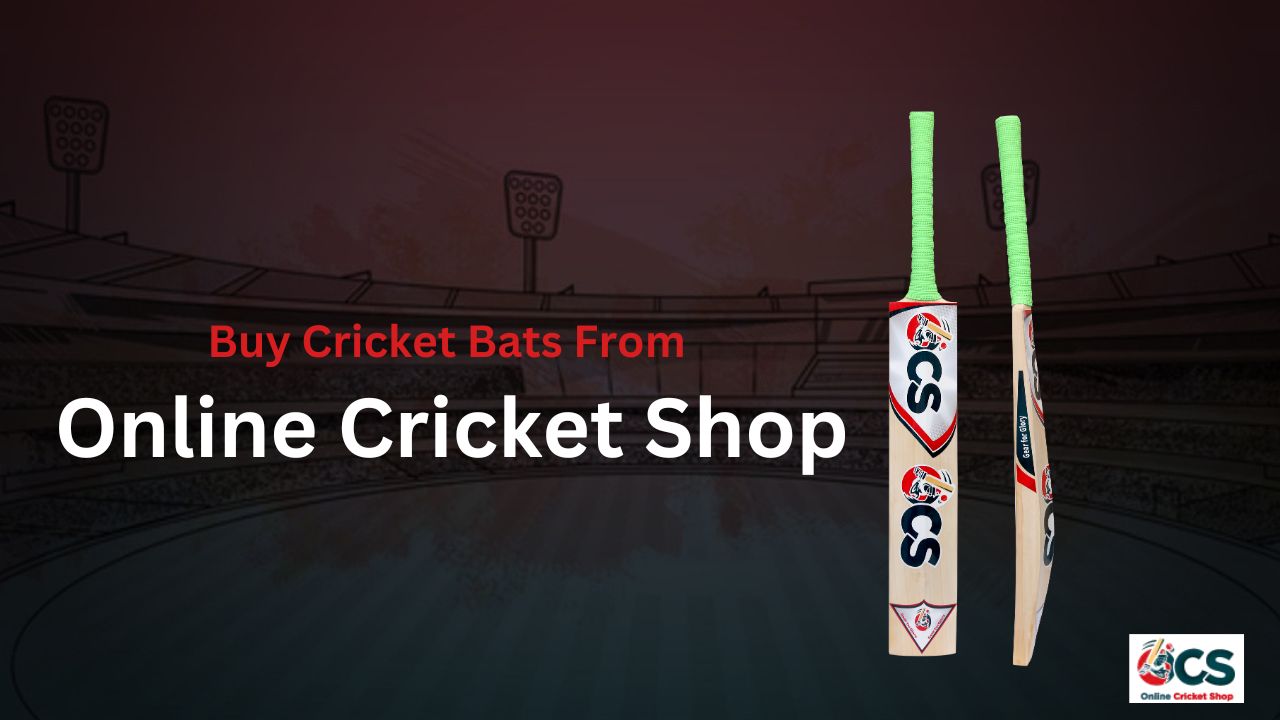 Cricket is a sport that requires skill and accuracy, and having the right gear can make all the difference. The cricket bat is one of the most important gears for a batsman. There are so many kinds of bats in online cricket shops that it can be hard to pick the right one. This blog post will discuss the different kinds of bats you can buy from online cricket shops.
Willow Bats 
English willow is the most common type of wood used to make cricket bats. People know the wood to be strong, light, and able to absorb shock. Professional cricket players use English willow bats of different sizes, weights, and shapes.
Bats from Kashmir Willow 
The price of Kashmir willow bats is less than that of English willow bats. The Kashmir willow tree, which grows in India and Pakistan, is used to make these bats. Even though they don't work as well as English willow bats, amateur cricketers still like to use them.
Hybrid Bats 
These bats are a mix of English willow and Kashmir willow. These bats have the best of both worlds because they are made of English and Kashmir willow. Hybrid bats are a good choice for cricket players who want a cheap but good bat.
Junior Bats
Junior bats are made for younger people just learning to play cricket. These bats are smaller and lighter than adult bats, so kids can handle them more easily.
Training Bats 
Training bats are made to help cricket players improve their skills. These bats are usually lighter and have a smaller sweet spot than regular bats, making it harder to hit the ball with them. Training bats are a smart purchase for cricket players who want to get better.
Reasons to Buy Cricket Bats Online 
Cricket is a well-liked sport that calls for specialized gear. A cricket bat is a crucial tool for making contact with the ball and racking up runs. Cricket bats used to be acquired mostly through brick-and-mortar sporting goods stores, but with the rise of e-commerce, online cricket shops have emerged as a popular alternative.
Convenience
One of the advantages of purchasing cricket bats online is the ease of doing so. You may go shopping whenever it's convenient for you because online stores are available around the clock, every day of the week. You don't even have to leave your house to do your shopping! This is something you can accomplish right at home. If you don't live in a place where cricket equipment is readily available, this is a lifesaver.
Wide Selection 
Most of the time, cricket stores online have a bigger selection of bats than stores in real life. They can keep more goods in their warehouses and get goods from more than one source. To find the right cricket bat, you can choose from different brands, sizes, and styles. You can also easily compare prices and features without having to go to different stores.
Better Prices
You can also save money if you buy cricket bats from online cricket shops. Online shops often have better prices than brick-and-mortar stores because they don't have to pay for rent, utilities, or sales staff, so they can pass the savings on to their customers. Also, online stores often have sales and deals that you wouldn't find in regular stores.
Reviews of products
When you buy cricket bats from online cricket shops, you can read reviews of the products written by other customers. This can help you choose which bat to buy in a smart way. People who have used the bat can tell you about its features, how well it works, and how long it lasts. This can help you avoid buying a bat that isn't what you wanted.
Easy Returns and Exchanges
Finally, online cricket shops often have easy return and exchange policies. If you buy a cricket bat online that doesn't meet your expectations, you can usually return it for a refund or exchange it for a different bat. Knowing that you can easily rectify any issues can give you peace of mind when purchasing.

Steps to buy cricket bats from an online cricket shop:

Step 1: First, you must dig to locate a reliable web store that stocks high-quality bats. You may learn a lot about a store by reading reviews, checking out what other customers say, and getting recommendations from friends.
Step 2: The second phase entails looking into the various possibilities. Choose an online cricket shop and check out its website to see what kinds of bats they offer. Pick a bat that fits your playing style, including the type of wood you want, its weight, and how you like to hold it.
Step 3: The third step is to shop around for the best deal on cricket bats by comparing the costs offered by various internet retailers. Find out whether any discounts or special offers are available.
Step 4: The fourth stage is looking over the features and specs. Researching the characteristics and specifications of a cricket bat is a good idea before making a purchase. Ensure it follows the rules for your level of play and any additional regulations, such as bat size.
Step 5: The fifth step is to review the available delivery times and methods. Make sure your cricket bat will arrive on time by researching your shipping choices and expected delivery date. Some stores may charge extra for express delivery, while others may offer it free of charge.
Step 6: Go out and buy the bat. If the cricket bat you've selected is what you were hoping for, go ahead and put it in your shopping basket so you can finish your purchase. Don't forget to include your payment and delivery information. Next, go through with the purchase.
Step 7: Verify your purchase by coming back to this page. After making a purchase, you can check the delivery's progress to ensure it arrives on time. Most online stores will give you a tracking number to see where your cricket bat is during shipping.


Collection 2019
Sale 70% Off
Title for image