Step By Step Guide How to Find Best Cricket Bat in USA
Posted by HASHIM ALI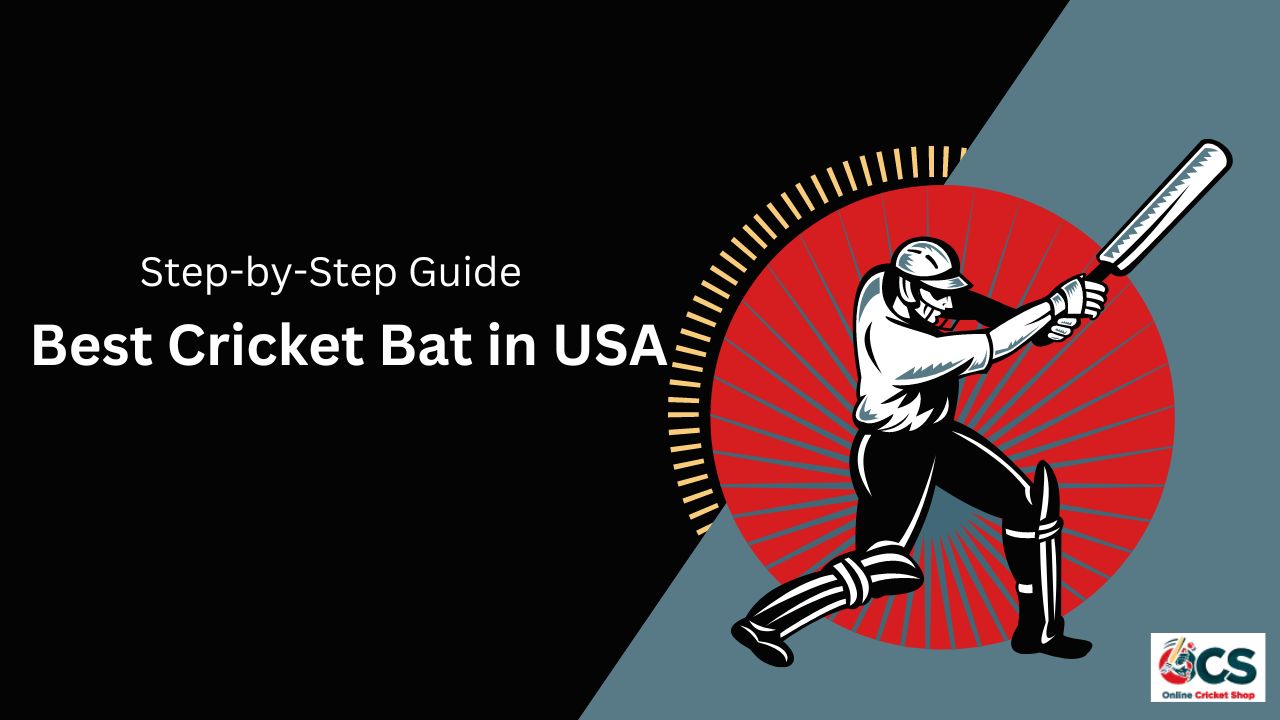 Cricket is a widely followed sport all across the world, including the United States. If you want to play cricket seriously, invest in a bat. Nonetheless, it might be overwhelming to consider all of the possibilities. The best cricket bat in the USA can be found by following this detailed advice.
Choose Your Budget
The first thing you should do while looking for the greatest cricket bat in the United States is to establish a budget. You can spend as little as $50 or as much as $500 for a cricket bat, and it is crucial to establish a budget before exploring available choices.
Size Selection
The following step is to select an appropriate cricket bat size. Your height and skill level as a cricket player will determine your appropriate bat size. A full-size bat, which must be at least 33 inches long, is required, for example, if you are an adult playing in a competitive league. But, if you are a child or a beginner, you may require a smaller bat.
Identify the Proper Wood
A cricket bat's effectiveness may vary widely depending on the type of wood used to craft it. Willow from both England and Kashmir is the best choice for cricket bats. Because of its responsiveness and softness, English willow is regarded as the best, and Kashmir willow is more affordable and may be a suitable option for novices.
Inspect the Cereals
The grain of a bat is a crucial factor to consider while shopping for a cricket bat. The grains are the parallel lines on the bat's face that extend from the grip to the end of the shaft. The quality of the bat increases as the grains become more obvious and straight. At least six parallel granules should be visible on the bat's face.
Weigh the Bat 
The bat's weight is an important consideration. Your preferred playing style and personal preference will determine the weight of the bat you use. In general, the heavier the bat, the more power it will provide, but the lighter the bat, the more easily it may be maneuvered. Getting a bat that fits your hands well and inspires your best performance is crucial.
Inspect the Handle
The bat's handle is also important when playing cricket. It's important to have a secure and pleasant grip on the handle. Try to find a handle that is well-constructed and comfortable to hold. To lessen hand fatigue during lengthy innings, some handles are constructed to dampen vibrations.
Think About the Brand
Last but not least, think about the brand when picking out a cricket bat. Gray-Nicolls, Kookaburra, and SS Ton, are three of the most well-known cricket bat manufacturers in the United States of America. The bats produced by these companies are consistently good quality and long-lasting. However, many other, less well-known brands may be a better buy.
There are many advantages to following the steps indicated above.
Managing Expenses
When shopping for a cricket bat, knowing your price range is essential. Step 1 of this article will help you pick a cricket bat that won't break the bank and keep you from worrying about money in the future.
Cosiness and Effectiveness
Picking the correct bat can improve your comfort and performance on the cricket pitch. You can pick a cricket bat that fits your hands well and inspires your best performance by completing steps 2 through 6. You can improve your performance, have more fun, and be safer if you do this.
High-Quality and Long-Lasting
A high-quality and long-lasting cricket bat can be determined by inspecting the grains and considering the brand. A high-quality, long-lasting, cost-effective cricket bat can be selected by following steps four and seven.
Satisfaction and Self-Assurance
Finding the perfect cricket bat for your needs and tastes will help you feel more at ease with your purchase. You'll be able to choose a cricket bat you're delighted with if you follow the guide's instructions. You'll feel more comfortable and enjoy the game more if you do this.
Advantages for the Future
Finally, there are long-term benefits to carrying out these steps. Choosing a good bat that fits your style of play could help you improve your cricket skills and make your team more successful. With this, you may hone your cricket skills and continue playing for many years.
Conclusion
Choosing the greatest cricket bat available in the United States takes time and effort. By following these guidelines, you may pick a bat that works for your needs in terms of cost, size, and playing style. Check the grains, the weight, the handle, and the brand name before settling on a wood. The appropriate cricket bat can help you reach your maximum potential and enhance your cricketing experience.
Collection 2019
Sale 70% Off
Title for image