How to Pick the Ideal Cricket Equipment Bag From a Cricket Store
Posted by HASHIM ALI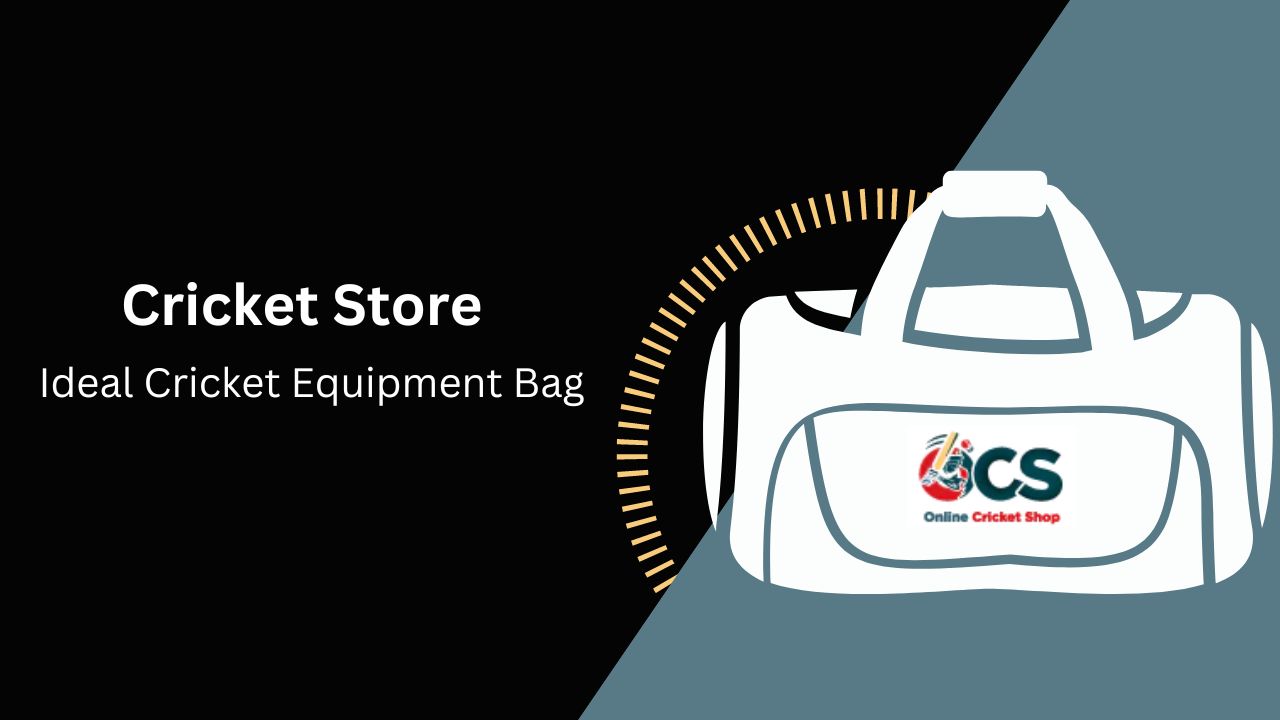 Cricket is a sport that requires a lot of equipment, from bats and balls to gloves and pads. It's essential to have a reliable and durable bag to carry all this equipment to and from matches and training sessions. However, with so many options available in cricket stores, it can be challenging to know which bag is the best fit for your needs. In this blog post, we'll discuss picking the ideal cricket equipment bag, focusing on choosing one according to OCS bats.
Understand Your Needs
When shopping for a new bag to carry your equipment for cricket, be aware of the needs of your game. Consider the type of sport you participate in, the equipment you'll need, and the frequency you practice. If you are a regular player and frequent traveler, you may require bags with wheels to make it simpler to move your equipment. However, when you're just starting and don't require large bags, however, as you grow and become more experienced, you could have to purchase larger bags. Awareness of your preferences will help you choose the correct dimension, design, and design.
Look for Quality
The caliber of your cricket bag is vital as you need a sturdy and waterproof bag that can be used regularly. The best loads can last longer and safeguard the equipment more effectively. OCS Bats come with high-quality materials made to last. Furthermore, they're waterproof, so you don't need to worry about wetting your equipment during rainy weather.
Check the Compartments
The quantity and the size of the compartments inside your bag for your cricket equipment are essential since you'll need bags that organize your gear and be readily accessible. Find a bag with different cases for the helmet, bat gloves, pads, and other items. Bags with several boxes can help you keep all your gear in order and quickly locate what you require. OCS Bats offers loads with several compartments to keep your bag neat and organized.
Consider the Style
The look of the cricket bag can be a matter of personal preference. However, it would help if you had bags that meet your family's needs and look nice. Various styles of loads are available, such as duffel bags, backpacks, and wheeled bags. Pick a design that fits your individual preferences and preferences. If you are traveling over long distances could make wheeled bags comfier.
Think About the Price
The cost of the cricket bag is a crucial factor since you want to save money, but you also should maintain the quality. OCS Bats offers loads at diverse prices to fit various budgets. Consider the bag's quality and features before deciding on the price. An expensive bag will be more costly but more durable, protecting the gear more effectively.
Make Sure It's Easy to Carry
In the end, you need an equipment bag for cricket that is lightweight and easy to carry. Find a bag that has comfy straps that can be adjusted to suit your physique. If you're going on long trips, look into a bag with wheels that make moving your items easy. OCS Bats offers loads with padding straps and wheels that guarantee you'll be able to transport the gear you need comfortably. An easy bag to carry can make your experience with cricket much more pleasant and less stress-inducing.
Guideline Step-By-Step for Picking up the Right Size Bag for the Size of Your OCS Bat's Size.
Measure Your Bat
Determining its dimensions is the first step in selecting the right bag to fit the OCS bat. Measure the length of your bat, from the point of the blade up to the very edge of the handle. OCS bats usually vary in size between 32-38 inches. When you've got this measurement, it is possible to choose an extra-long bag that can comfortably accommodate the bat.
Look for a Dedicated Bat Compartment
If you choose a cricket gear bag, select an item with a separate bat compartment. The compartment should have padding and straps with secure buckles to hold your bat in position and avoid damage during transport. OCS bat bags feature unique rooms that can accommodate a bat or several by the bat's size.
Consider the Bag Size
Alongside having a bat-specific compartment, think about the bag's overall dimensions. The bag must be large enough to fit your bat and any other equipment like helmets, pads, gloves, and shoes. It should, however, not be so large as to make it weighty or awkward to transport. OCS Bats offers a range of bags that come in various dimensions, so pick one suitable for the equipment you're using and your transportation requirements.
Look for Additional Compartments
Apart from your bat storage compartment, think about seeking bags that include extra rooms to store additional items. OCS bat bags are equipped with several compartments and pockets and can accommodate all your equipment, such as separate compartments for helmets, shoes, and gloves. The organization will ensure that the equipment remains protected and safe during transport.
Consider the Durability
It is crucial to choose the right cricket bag, which must endure wear and tear and ensure that your equipment is protected from damage. OCS bat bags are constructed using robust, robust materials that last for a long time, ensuring that your equipment is safe and safe.
Check for Carrying Options
The options for carrying are crucial when selecting a cricket equipment bag. Find bags with comfy handles or straps that distribute weight evenly and won't stress your shoulders or back. OCS bat bags have cushioned straps and grips, so carrying them is comfortable and straightforward, even when packed with gear.
Consider Ventilation
Ventilation is crucial for ensuring that equipment remains clean and dry. Find bags that have vents, like air holes or mesh panels, that let your equipment breathe while preventing foul odors from forming. OCS bat bags have ventilation panels to help you live through your gear, keeping them clean and ready for the next game.
Collection 2019
Sale 70% Off
Title for image